Classic Rock Custom & Designer Jewelry Blog
Learn about fine jewelry from a GIA Certified Graduate Gemologist.
Here's how to understand how much gold in your gold!
First, gold that's 100% pure gold—with no other metals in it—is considered 24 carat gold. Items that are made of pure gold will have a mark that's written like this:
24k
When gold is alloyed with other metals, this often changes its "caratage." Caratage is the measurement of the purity of gold alloyed with other metals. And there are some basic caratage standards.
10k
14k
18k
24k
The higher the number of carats, the higher percentage of gold your jewelry will contain.
To determine the percentage of gold is in each caratage standard, simply divide the number of carats by 24 carats!
10kt = 10kt divided by 24 kt =0.4166 = 41.66% Gold (Au)
14kt = 14kt divided by 24 kt = 0.583 = 58.3% Gold (Au)
18kt = 18kt divided by 24 kt = 0.75 = 75% Gold (Au)
24kt = 24 kt divided by 24kt = 1.00 = 100% Gold (Au)
For those of you who want to know what metals help create different colors of gold jewelry, here are some of the most popular combinations:
White Gold = Gold (AU) with Nickel (NI)
Yellow Gold = Gold (AU) with Combination of Zinc (ZN) and Copper (CU)
Rose Gold = Gold with Copper (CU)
Green Gold = Gold with Zinc (ZN)
Hope you enjoyed this little jewelry lesson. Follow me on my blog for more great jewelry lessons! I'm Gemstone Jeanne, at the Classic Rock Custom & Designer Jewelry Store.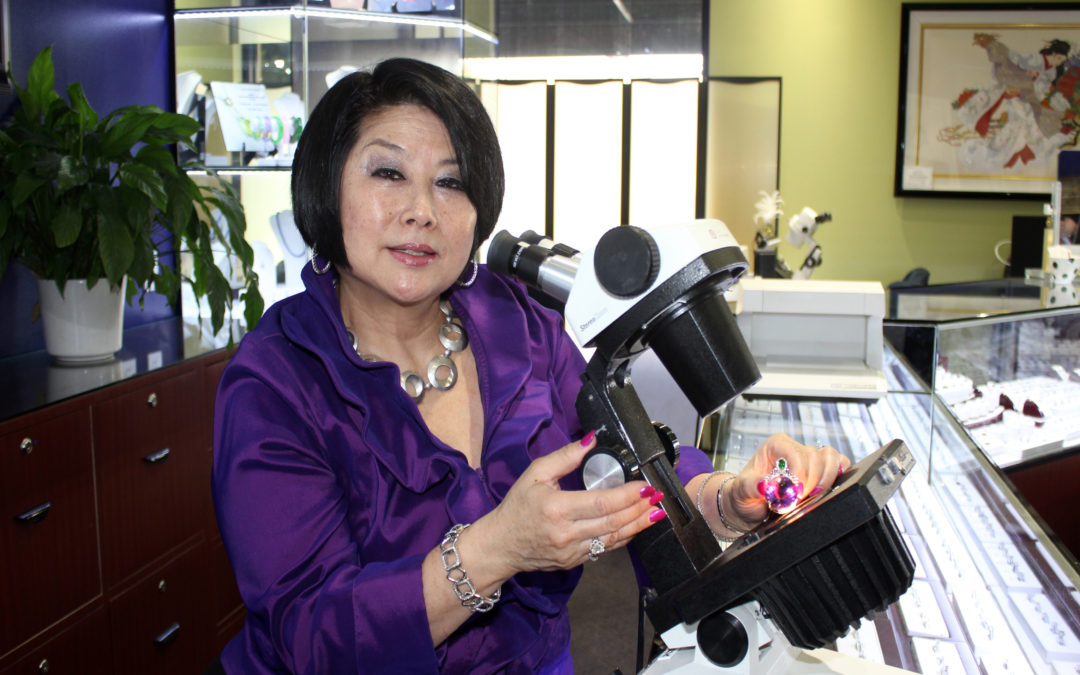 Hi, I'm Jeanne Katsuro, owner of the Classic Rock Custom & Designer Jewelry store in San Jose, California. If you're just starting to learn about fine jewelry, diamonds, colored gemstones or pearls, you'll find our new website a great source for information.
I am a Graduate Gemologist from the Gemological Institute of America, and I'm a science teacher who graduated from the University of Texas. So, I love to teach!
For more than 27 years. I've helped many people with their diamond engagement rings as well as their special and custom jewelry requests.
We're so lucky that many people have given us a 5-star YELP rating.
Many customers have become our friends and continually visit our store to share their engagement, wedding and baby pictures with us!
Everyone is welcome to come by for a free jewelry cleaning and inspection, regardless of where it was purchased.
We offer all these services because we care.
We look forward to meeting you!
—Jeanne

LEARN ABOUT FINE JEWELRY!
I love to share my knowledge of diamonds and gemstones, and even more important, help others find their the jewelry of their dreams!
Here's what you'll get when you subscribe to my blog:
• Jewelry trends
• Diamond engagement ring ideas
• Custom jewelry design tips
• Special jewelry sales and trunk show updates